After rigorous review by the competent authority's recommendation, form review, and expert review, recently, Jining Science and Technology Bureau identified the list of Jining high-tech enterprises in 2019. Shandong Shenhua Information Technology Co., Ltd. under China Coal Group The outstanding advantages of the company were successfully selected, and it was rated as Jining High-tech Enterprise of 2019.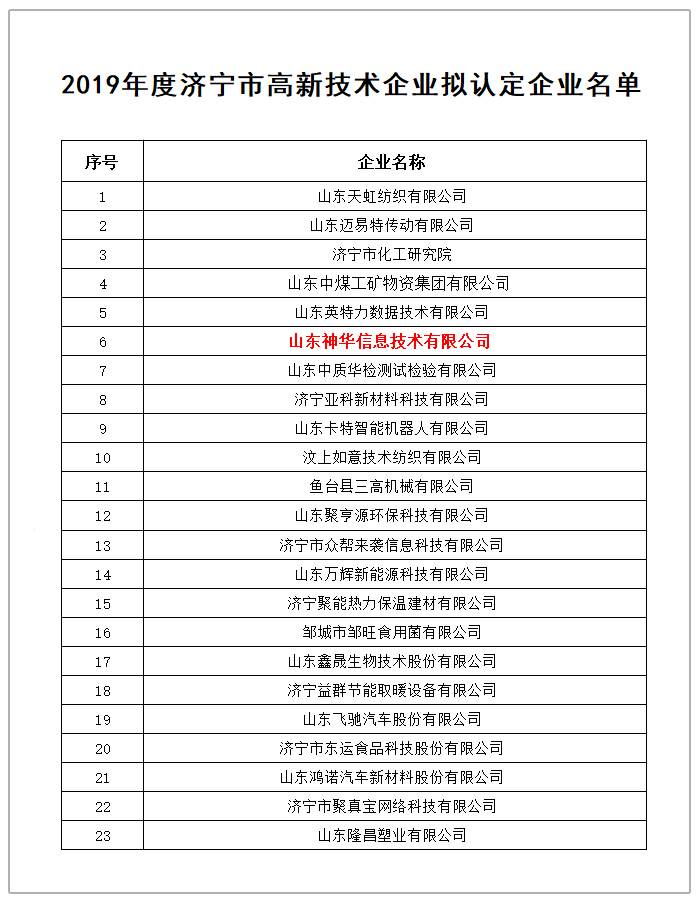 As a scientific and technological enterprise in Shandong Province, a specialized new enterprise in Shandong Province, and the first batch of cloud application service providers in Shandong Province, Shandong Shenhua Information Technology Co., Ltd. has continuously strengthened its independent scientific and technological research and development and innovative research and development, actively seeking benefits from science and technology, and from research and development. As a result, we have made active explorations in the field of Internet software applications, and successfully passed the "double soft certification" of the enterprise, which proves our company's overall strength in the field of software product research and development and technological innovation.
Among them, the company's self-developed billion mining network cloud platform, with the help of cloud computing capabilities, to strengthen business expansion in the field of big data, not only can accurately locate the global customer distribution and market demand, but also for the group, government, society and global industries Providing a full range of services is a benchmark and model for industrial enterprises in Shandong Province and even across the country to use big data and cloud computing to promote the development of new and old kinetic energy. Evergreen.com cloud platform has been selected as the national e-commerce integrated innovation pilot project and the national manufacturing dual-innovation demonstration platform. It has been rated as a national cross-border e-commerce key support project and a national new information consumption demonstration project. Many honors such as Practice Award, Shandong Enterprise Cloud Enterprise Outstanding Industry Cloud Platform, Shandong Province Key E-Commerce Platform, Shandong Province Industrial Internet Platform, etc., have made positive contributions to promoting the industrial transformation of the national coal mining machinery industry!
This time, Shandong Shenhua Information Technology Co., Ltd. was identified as Jining High-tech Enterprise in 2019, which fully affirmed the development achievements of our company in the field of software and scientific and technological innovation, marking that our company is in software research and development, technological innovation and standardized management. A new step has been taken. In the next step, our company will take this as an opportunity to increase the innovation of scientific and technological products, deepen the quality management of software products, and make more positive contributions to the scientific and technological innovation development of the city and the province!